We stop in the middle of a steep hill in front of a time-worn building of Thai immigration. Everything goes surprisingly smoothly. However just before the final formalities are sorted out we are told by the boss that due to the fact that we are missing some document about car import, we must pay a 6000 Bahts fine. To make himself clear he turns to a huge blackboard next to the window and points to some Thai scripts. Only later do we find out that this law is no longer valid and is absolutely irrelevant. Surprisingly though, the situation is solved by a skillful customs officer, who dials the immigration office and after a brief conversation with the man on the other end, we hand the phone to the boss who talks for a while and then just angrily tells us to pay 200. Finally we can now head towards the Laotian part of the border. Here we receive our visas relatively quickly at a rarely used gate labeled "visa on arrival". We persuade the customs officers to give us some sort of a document about the import of our car and finally our journey through Laos can begin.
We are pleasantly surprised by the asphalt road which begins just behind the border and ends in front of a huge construction site, where the biggest power plant in the world is currently being built. The security tells us to continue on a dusty road, which starts about half a kilometer from here. When we get to this new road we finally see what we expected to see in Laos. Before dusk we enter Hongsy and go straight to the Jumbo Guesthouse, where we slept 5 years ago. Just like before we are welcomed by Monica, the Austrian owner, and a nice German traveler Marion, who is taking a break here after travelling for 8 months. During dinner we plan our all-day trip for the next day – we are excited to see lots of elephants working somewhere in the middle of a jungle.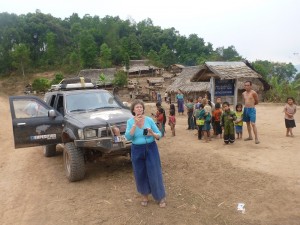 Next day all five of us jump into the car and on our way we pick Suka, our guide. Then we continue on a dirty road over the mountains and valleys to his home village. The first thing we do upon our arrival is that we give the locals a few pills for their diseases (no, we are not happy about it and try to explain them, that eating tons of pills is actually not the best idea). After that we take one elephant and go to see how it pulls a large tree from the forest into the village (and yes, I really expected much more than just one elephant). We have lunch Suka's parents' house and then we get ready for probably the most exciting part of our trip. It is some kind of a ceremony during which a boiled hen and an entire bottle of local brandy called Lao Lao is sacrificed. Each of us has about seven shots before the entire bottle is finally empty. In a very good mood we go back to our car and I somehow manage to slowly drive towards our final stop – a village located at the Mekong shore. Before sun down we then get back to Hongsy.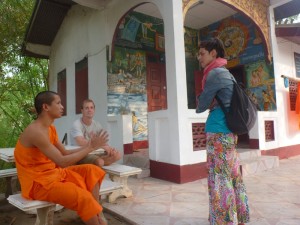 Next morning Monica tells us that she has decided to join us and spend a few days with us on our way to Luang Prabang. To give our José some kind of a challenge we choose the less often used route, which the locals call "the shortcut". It is a direct road through the mountains and valleys, suitable especially for off-road motorbikes. The majority usually takes the traditional road which makes a big detour through the Sainyabuli town. The road goes through a few really detached Hmong villages (ethnical minority) and few parts are almost impossible to pass. By 7 PM we finally arrive to Luang Prabang.
We spend the following three days just hanging around in Luang Prabang. It is a former royal town with a very nice city center and many temples, where boys from far and wide study. All this is also reflected in the prices and the concentration of tourists. The second day we go on a trip to see the nearby waterfall with crystal clear water and despite the current drought period, the flow rate is surprisingly high. After three days we say bye to Monica. She takes a boat and heads back to her guesthouse.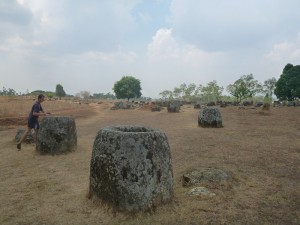 We take our José and head towards our next target – the Phonsavan city and the nearby Plain of Jars. People say that the road through the mountains is one of the most spectacular roads in the entire Asia and we must agree with this. In contrast, the Phonsavan city is rather one of the less beautiful towns in Laos. What we want to see however, is not the city, but its surroundings, where hundreds of large, thousands of years old, stone jars are dispersed. Nobody really knows by whom and for what purpose they were made – there are just many theories. In my opinion this place easily outperforms similarly mystical British Stonehenge or Chinese Terracotta army. During the day we meet only about 5 people in total (none of them White). Following this nice archeological part of our trip we continue through the serpentines back towards the main road and then to the Vang Vieng city, very popular amongst tourists.
In the afternoon we are welcomed by Vang Vieng. The major highlight for tourists should be the nature here, full of beautiful limestone hills with a river running around them. In reality however, the reason why so many people come here is quite different. They come here because of the easy availability of drugs and never-ending partying. We go to see one of the biggest attractions – the green lagoon. It is a large hole in the ground dug by a digger…. (at least it is full of crystal water). Few people actually swim in it – scary….
Next day we get to the major highlight of the local entertainment industry – tubing. An infinite flow of tourists takes a tire from a tractor and is then taken four kilometers out of the city and carried back by the flow of a small river. Now that is what the theory says. In reality, just after you start your "sail" you see about five huge stages with big modern sound systems. When you are passing them, you are dragged out of the water and offered a "welcome drink". This, in conjunction with a highly intoxicated crowd, creates an environment that many tour guides warn about. Unfortunately deaths are nothing uncommon…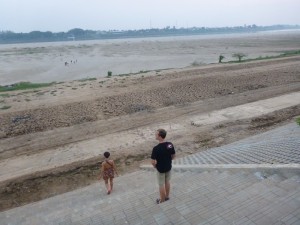 Two days later we pack up and in an extremely warm weather drive to the metropolis – Vientiane. To be quite honest – not much from what we see and experience here is worth mentioning. Apart from the traditional visit of a car service (to get a replacement for a broken wire, which opens the engine) I can only mention the nice Mekong shore. Actually right now, due to the climax of the drought season, Mekong is just about 200 m wide. It is therefore lined by a huge beach and for many people offers an opportunity for a nice evening walk.
We've had enough of sweating so our next stop is the Bolavean Plateau located in Southern Laos in a sea height which finally allows "surviving" in a room without air conditioning. I think at this point it is appropriate to make a few comments about the Laotian roads. The drivers could basically be divided into two groups. The smaller one is maniacs driving the night buses and brand new cars. These are usually not problematic as they just pass you in a few seconds at a very high speed, usually in the middle of a curve. The second group – much more dangerous one – is the majority of local drivers who for some unknown reason enjoy driving at an extremely slow pace. If you happen to get behind one of them, it is virtually impossible to pass, or if you try it, you are very likely to be hit by a bus driving in the opposite direction…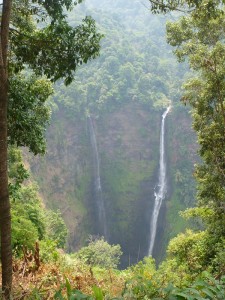 After we see the largest Laotian waterfall – the Tad Fane – and a few nearby smaller ones, we head towards the lowlands. The final thing we want to see in Laos is the region of 4 thousand islands. It is located just on the border with Cambodia and during wet season, Mekong becomes as much as 14 km wide here. It is hard to say how many islands there is exactly. We find accommodation in the largest village on the largest island around – Don Khong. First day we just "absorb" the atmosphere, next day we lend a motorbike and take a ride around the island. After that we move to the island of Don Det. When we get there we are shocked when we see dozens of people laying on about 2 m of sand along the river. The water is full of cow excrements (now the question is, why do these scenes never make it into movies such as The Beach…).
The accommodation is very simple, but it is compensated by the price – just 5 USD for three people. In the evening we take yet another trip to the other side of the island with the Swedes David and Frida. Here we take a little swim in Mekong (of course the excrements didn't disappear, they are just not so obvious in the dark…). In the morning we pick up our car on the other side of the river and once again fully loaded (with Inna and the Swedish couple) drive fifteen kilometers to get to the Cambodian border.