After our team divided in the middle of November we temporarily end our expedition and three months of travel holiday begin. Guys continue for another fourteen days further south to Vietnam. Then they fly to Singapore so that they can finally after three months get Jose back into our hands. I fly to Australia, where I spend time by working illegally. We meet shortly again at the beginning of December in Kuala Lumpur. Alin takes "holiday" because his girlfriend arrives to meet him and they spend in on Malaysian island Langkawi. I spend the time going round places worth seeing in Malaysia and with me is also "Ales' body" constantly holding his laptop and working on his diploma thesis. After 2 weeks we meet again in Hat Yai in southern Thailand. At the airport parking place we pick up Jose – guys left him here after the wild drive through Malaysia without property damage liability. Then we decide to celebrate the upcoming Christmas Eve and New Year on the Thai island Koh Lanta. In a bungalow near a swimming pool – just like the typical tourists. The last one of us to "go on holiday" is Ales. He flies back to Czech Republic to pass the state exams and hand in his diploma thesis. We leave Jose again, this time in Lanta Car Pro service because the dampers need replacing. For the last time we all go our own way – Alin to northern Thailand, Ales to Czech Republic and I go to Borneo and then continue further to Phillipines.
Finally after almost three months we all meet again in railway station buffet in Vietnamese Kon Tum and our expedition can continue. Or at least could continue. Unfortunately we get an email from Alin that he is running out of money and also time. He therefore already went to Myanmar and we would probably only meet him for a short time somewhere in Laos or Cambodia. It seems like the rest of our expedition is going to be just me and Ales. I pick up "MSc. Ales" at the Singapore airport and we head off downtown to celebrate the successful end of his studies. Of course just in a very discreet way – in fact we have no other option due to the astronomical prices of alcohol in Singapore. Two days later we go to pick up Jose.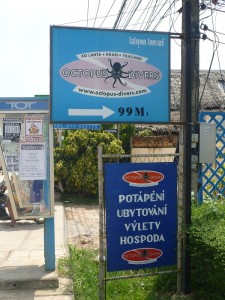 In Krabi we are again forced to pay an enormous amount for a journey in a van towards the Koh Lanta island. After a few minutes of driving a guy behind us suddenly picks up his mobile phone and we hear Czech so we immediately start chatting with him. His name is Pavel and he owns a diving center in Lanta. In fact the center is just across the street from the car service where Jose has been waiting for almost a month now. Unfortunately the guy in the car service just tries to find excuses why our car is not ready, but also assures us that in three or four days everything will be ready. Because all we can do is wait we accept Pavel's offer of accommodation in one of the bungalows, which belongs to the Octopus diving center.
Four days pass by quickly and we can finally jump in to Jose again and head towards Bangkok. However soon it becomes clear that one of the major problems with the engine was not solved by the guys in the car service in Lanta. The next day we are supposed to meet in Bangkok with our friend from Brno – Jarek, so despite the problems with the car we travel another 800km northwards.
We arrive to Bangkok on time and meet with Jarek in a famous tourist pub on the Khao San street, where we spend the rest of the evening drinking beer. Next day we visit the palace of the king, send Jarek to the airport and look forward to the continuation of our road trip towards Laos. On Monday we go round many car services, but all car mechanics are scared and send us to authorized Toyota service, which is where we end up, not knowing that the reparation would take 10 days.
Every cloud has a silver lining. Just at the beginning of our stay we meet Alex from Slovakia. In the evening we go together to a pub where he introduces us to Inna from Moscow. Inna already spent the last four months traveling around Asia and her next dreamed destination is Laos. We are asked if we want to take her with us. Well, why not. We also get to know Tai, a smart girl from Bangkok. Thanks to her we are able to get better understanding of the Thai culture and thinking. What's more, her father owns a car service, where we put our Jose for final adjusting after the reparation in Toyota service is finished. In the next two days, Jose gets probably the best care since we have left Brno. Later we discover he is a former successful car racer. And not only that. He is also a former chief engineer of Toyota in Thailand, whose several improvements are used directly by the constructors of Toyota in Japan. We really couldn't find anyone more suitable to have a look at our Jose.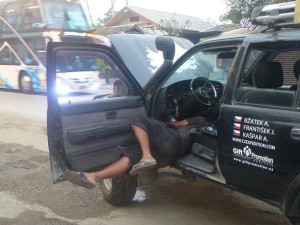 Sixteen days pass by very quickly and we finally get to our car, say bye to the guesthouse owner and together with Inna head towards northern Thai Chiang Mai. Our first stop is the city Mae Sot on the border with Myanmar. We want to make sure that there really is no way of getting our car to this country, closed to most tourists. Also, Inna's visa in Thailand is expiring so getting into Myanmar would be desirable. We are a bit disappointed because they really won't let us enter Myanmar no matter how hard we try and so at least have a walk through Myawaddy. Before sundown we pick up our passports at the customs office and head back to Thailand.
Our next stop is one of the major tourist attractions, the historical city of Chaing Mai. We find accommodation in a house belonging to Miloš – a Czech-American, who also becomes our tour guide the next day. We visit many temples and a few excavation sites and Miloš always adds his interesting comments and explanations. Unfortunately Jose's clutch pedal is developing a fault and I really start to believe that Jose just has a certain predetermined number of problems and once we solve one another appears. Fortunately it just a minor mechanical problem. Next morning we fix it and hopefully we can now finally leave Thailand and head towards Laos. We spend the night in the town of Nan, which turns out to be quite enjoyable. Unlike Chaing Mai, there are no tourists (apart from a few Thai from Bangkok), but there is also many wonderful temples and everything just seems very relaxed and quiet. However we've all had enough of the long involuntary stay in Thaliand. So after a short morning walk we start the last 150km stretch to the Laotian border.