In the evening we finally reach the plateau of western Mongolia.  It is gradually getting dark and significantly colder. We build our tent in the middle of a plain at 2100 m above sea level and want to prepare some food. However in just 5 minutes we have first visitors. Two young locals on horses curiously observe our tent. They get down from their horses and for the first time in our entire journey we really struggle with the language barrier between us. The Mongolian people living outside Ulaanbaatar usually don't know any foreign language and so for the next three weeks, most of our conversations consist of loud laugh and drawing pictures in the sand.
In the morning we pack our stuff and head towards Olgije – the center of province of the same name. Mongolian cities are quite unique. A few asphalt roads, several western-style looking buildings, slightly less western yurts and all of these cities separated by hundreds of dried, sparsely inhabited landscape. Unique are also local roads. Sometimes we drive on one of the several tracks in the plain of the Gobi desert and all we have to do is make sure we don't turn to the wrong side of the mountain massif ahead of us (there are probably about 20 signs showing directions in the entire Mongolia). Moments later however, we drive extremely slowly through a mountain pass on a road made of sharp rocks.
Few days later we finally get to the famous Khovsgol lake – the younger twin of Russian lake Baykal. Mongolians are quite proud of Khovsgol and it's also a popular holiday destination for many of them. We try to find accommodation in one of the many yurt camps, which are along the west coast. Few moments later we begin a conversation with a young guy on a mountain bike. It turns out he is the manager of a nearby resort, speaks English fluently and is quite happy to make us diner. Unfortunately, there are no places available in the yurts (shame – just 30 dollars for a huge heated yurt for 4 people really is a bargain), so we build our tent and head towards the dining room. We get a great soup followed by a cake filled with onions and meat (the Mongolian version of pyrogy) and we are also offered plenty of beer. Very nice change from all the meals from road snack bars and city buffets where we have been eating in the past days.
Next day we go to explore the lake. Alin heads towards the relatively high hills nearby. I go along the coast and pass herds of horses and a few tourist camps. The water in the lake is so clean that it is actually drinkable (approved by chemical analysis!). Also the visibility is unbelievable.
We pack our tent after dawn, say goodbye to the resort manager and begin the last 800km long part of our journey towards the next target – Ulaanbaatar. After 2 days and 25 hours long drive we finally reach the Mongolian capital. We find a nice accommodation in a karaoke bar for just 20 dollars (just for a comparison, in Novosibirsk a room without a bathroom and toilet cost us 60 dollars). The hotel is nice and calm because all the singers are asked to leave by midnight.
Next morning we take a walk through the town. The Mongolian feast Naadem is just ending so everything is calm and there is hardly any traffic at all (unlike a few days later when it changes back to the usual chaotic Asian city with traffic jams everywhere). We take a picture of the giant statue of Genghis Khan sitting in front of the government center and then try to find the Czech restaurant Bohemia. Unfortunately we are unable to find the address we got from the internet, but  just when we are about to give up Alin asks a man standing nearby.  After a few moments we switch from English to Czech – just by coincidence it is Luboš Svoboda – the owner of a local security agency living here for some time already. He used to be the owner of Bohemia, but closed it down a few months ago. Doesn't matter. We go for a drink and order Budweiser in a restaurant on the main square. Later in the evening we are joined by other Czech friends of Luboš living here.
Next day we have an appointment in the car service at 10am. We wait in the queue and at 1pm it is "already" our turn. While waiting I chat with my English-speaking friend and translator, who unfortunately isn't so lucky. After 4 hours of waiting the guy in the service tells him he was a bit drunk the previous day when telling him he would be able to repair it and that actually it is probably beyond his abilities. So he asks him to come back in 2 days – well, Mongolia…. We relax for the rest of the day and go to bed early because next morning we are finally supposed to pick up our friends at the railway station.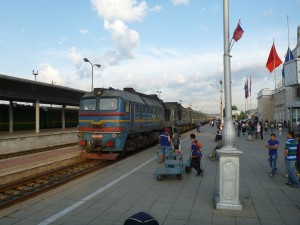 It's 6:28 AM and the train from Moscow enters the station. This 2min delay can be excused considering its previous 4-day journey during which the train covered many thousands of kilometers. The guys jump out of the train. After enthusiastic welcome we take them to the hotel and go to celebrate our meeting by having a breakfast downtown. The breakfast is so fulfilling that even before 10am we are in a "good" mood. We then spend the afternoon going round car services with Luboš's car mechanic. Finally after 7 hours spent with "hard-working" Mongolian car mechanics we come back with a repaired stabilizer.
In the evening we head for a dinner with Luboš and also two other guys from Czech Republic, who were sent here by the university in Prague. During the evening we are joined by Baaska – a Mongolian who was originally a car mechanic during the times of Czechoslovakia and despite the 18 year pause, his Czech is still very good. Alin met him during his tour round car services the previous afternoon. Baaska asks Alin whether he could try to find his lost best friend from Moravian city of Polička after we return back to the Czech Republic. He said he's been trying to contact him for the past year (with the help of the Czech embassy). When we see the telephone number we immediately spot the problem as it is still in the old format, which was changed many years ago.
Luboš is connected to the restaurant Wi-Fi and within just a few minutes and using internet databases, he quickly finds the right person. His friend is no longer a car mechanic but instead a boss of a transportation company and hopefully he would still remember his Mongolian friend. Luboš tries to dial the number on his mobile phone and after a brief conversation he hands the phone over to Baaska. In a few moments, after many years of searching, Baaska – a Mongolian from Ulaanbaatar pub – finally speaks with his lost Czech friend, who is just on holiday fishing in Norway. A very nice way to end the evening and so we say bye to Luboš (to whom we are very grateful for all the help he provided to us, as if it was almost his necessity). Next day we leave Ulaanbaatar and continue towards the Gobi desert.
The next morning we pack our things. It becomes a little bit more difficult because so far we've only been two and now we also had to make the rear seats available. Finally everything is ready and after a brief walk around the nearby Buddhist temples we leave Ulaanbaatar. We ask a few locals for the directions and then continue southwards – at least we thought we were going south. In the evening we check our GPS and it turns out we are not really going as we should (with a map scale 1:2 000 000 and traveling speed of 30 km/h it is sometimes necessary to drive for half a day before you realize you are going in a wrong direction). Fortunately it is not such a big problem. The next day we reach a village where we get high-quality 76 octane petrol and adjust our bearing. At 5PM we continue towards the "capital of Gobi" – Dalanzadgad. It is 700km far and the journey can be covered within less than two days. We fill our water canisters for a small fee in a local well. We don't make a stop in Dalanzadgad. The national park Gobi Gurvan Salkhan begins just a few kilometers from the town and you can find here the highest sand dunes in Gobi (the rest of the desert is mostly rocks, sand can only be found at 3-4% of the total surface), dinosaur fossil excavations and also the Yolin Am canyon, which is covered with a deep layer of ice for most of the time. Because majority of the tourist attractions are relatively far away and we are short of time, and also because navigating in Gobi is far from easy, we decide to visit just the canyon, 40km away from where we are now.
We arrive to Dalanzadgad late in the afternoon so decide to leave the tour through the park until the next day and find accommodation in a nearby tourist yurt camp. Surprisingly it is full of Germans, who came here on an organized trip. In the morning we head towards the National park. After a short search we find the entrance, which is not watched over by anyone these days so we just pass through without paying and park our car on the parking place. We then decide to cover the next 2km using the service of local entrepreneurs – on a horseback. As a bonus we get 2 young female guides. Just a few km later, the horses can no longer continue so we walk.  After a few hours we give up searching. On our way back however, Weir finally finds what actually made us go here from Ulaanbaatar. Just month ago there used to be a 10m deep layer of ice – today it is just a little mound. We are quite excited and take pictures using the self-timer.
We return to the north and once again enjoy camping in the middle of a large plain in Gobi. Setting up tent, table, and chairs and then dining in the muddle of nowhere while watching the sunset is really an unforgettable experience. Our next plan is to see the huge statue of Genghis Khan, which Weir saw somewhere on the internet. As usual, we spend the next two days looking for it. We were supposed to be quite close, but unfortunately on the wrong side of a relatively wide river. When looking for a ford or a bridge we accidentally drive through a big hole hidden in the grass and damage our rear damper and the suspension spring.
In a few moments, a man from a nearby yurt arrives and offers us help. Using his jack, spare wheel and a few tree trunks we relatively quickly put the spring back into its position and move towards the yurt. The lady and her daughters offer us cheese with milk (probably the source of stomach problems we all get the next day), we fix the damper and continue our journey. The whole family says goodbye to us and shows us how to get to the bridge. We look for the statue for about an hour – unsuccessfully. At the GPS position where it was supposed to be found we find just some small stone obelisk, which really looks nothing like a 40m high statue of the middle-age ruler. So after three days of driving through Mongolian countryside we ended up somewhere completely different than where we wanted to.
Weir is flying back home from Russian Irkutsk in just three days, so we quickly head towards Baykal. The next day we are already driving on a nice new asphalt (!) road back to Ulaanbaatar. About 60km from the town we get a pleasant surprise. Behind a turn we suddenly see a 40m high, stainless statue of Genghis Khan on a horseback. It was finished in 2008, which explains why it is not mentioned in our guidebook nor shown on the map we have.  It is supposed to be the biggest equestrian statue in the world.
We then continue and soon arrive to Ulaanbaatar and again are faced with the heavy traffic. We make a stop in the car service and make necessary reparations so that we can continue towards Russia as soon as possible. For the last night in Mongolia, we set our tent at a very nice place near the river and next morning head towards Russian-Mongolian border. When we arrive there we see a long queue so we tried to use a slight trick and form a new queue next to the other one. We are lucky and our strategy works. In just 2h we are on the other side of the border and continue. After an all‑day drive we finally reach Irkutsk late in the evening and find accommodation in a local hostel. Next morning we say goodbye to Weir who leaves to the airport. The route to the most distant place of our entire journey – the Magadan – can now begin.